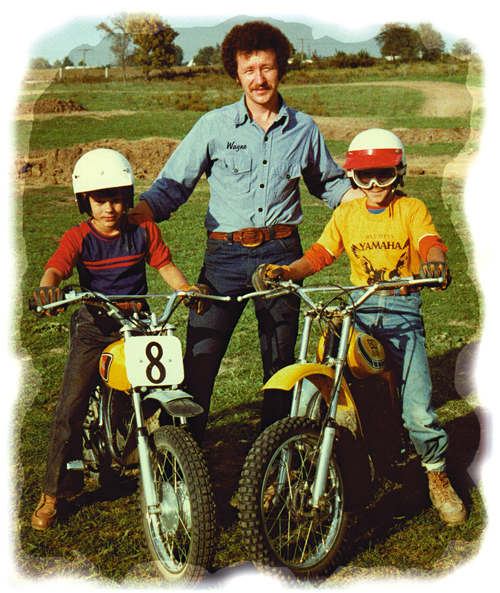 Throttle Jockey- Dirt Bike Graphics Made in the U.S.A. Since 1992.
History:
Two aspiring motocross-racing brothers since 1978 who did not want to get thrown into the realm of having typical jobs, embarked on a career that would lead them to what we all know as Throttle Jockey.
Click HERE for a little history video.
The oldest brother Robert Davis started screen-printing on t-shirts in 1984 after approaching his high school art teacher about how to get his name and number on his race jersey. Robert and his younger brother Matt got heavily involved in skateboarding and expanded into producing vinyl stickers for the skateboard industry doing work for such companies as, Alien Workshop, H-street, Think, Real, Dog Town and Gullwing trucks. Returning to their true love in 1989, motocross, the two began making numbers, stickers and t-shirts and coined the now infamous phrase Because Golf Courses Should Be Motocross Tracks! With the success of their first products, they began doing research on the materials and the processes with the goal of producing the very best quality dirt bike graphic kits for motocross bikes and Throttle Jockey was born in 1992.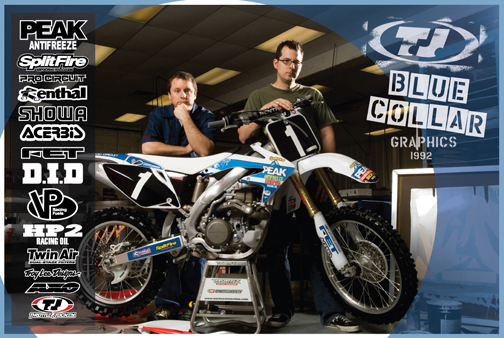 In 1992 their first job was landed for the 'Pro-Circuit/ Honda/Peak Antifreeze Race Team' including riders such as an unknown Jeremy McGrath, Steve Lamson and Brian Swink. In 1994 Throttle Jockey was asked to do the graphics for the DGY 'Yamaha Support Team' featuring Doug Henry and Jimmy Button as well as the 'Boyesen Yamaha Support Team' with John Dowd and Scott Sheak. Later that year T.J. was approached by American Honda to manufacture graphic kits for their 1995 factory race team to meet the demand for superior quality products and service. As the relationship grew between the two companies a deal was made that would make Throttle Jockey an official sponsor to Honda for their motocross and supercross teams.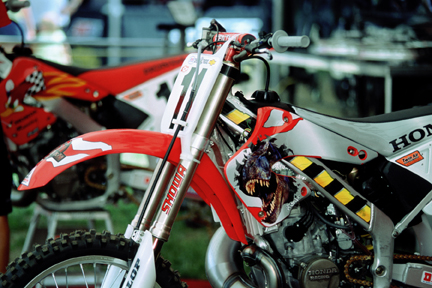 The sponsorship started in 1998 and has continued until present. Honda wanted the best product and superior service and Throttle Jockey stepped up and delivered. Throttle Jockey has also manufactured the one-off graphics for the Universal Studios "The Mummy Returns" and the "Jurassic Park" themed bikes. Throttle Jockey also manufactures custom graphics and seat covers for race teams and dealerships all over the United States and over seas. "We also work with leading companies such as Wiseco, Racer X, Cometic, No-Toil, Fasst, Showa, Bridgestone, Spectro, HRC, Moto Tees, etc".
CLICK HERE for more legendary and historic dirt bike graphics printed by Throttle Jockey.